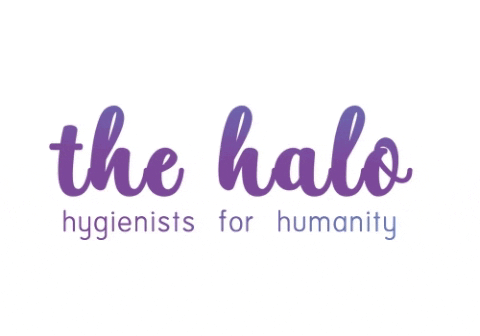 The Halo

Volume 5 Spring 2020
"We are each of us angels with only one wing, and we can
only fly by embracing one another."
Meet Latrica Johnson!
"One of my main reasons for having a career in dentistry is to increase access to care for underserved communities. Because I'm only one person, I support Hygienists for Humanity so that access to oral hygiene services and products can be expanded. We can reach more individuals by working together. I commend Alicia and the members of Hygienists for Humanity for the awesome work being done to help underserved communities. Everyone deserves to have access to quality care and basic hygiene supplies."

With Latrica's support, we can continue #DoingAngelsWork, advocate for care in vulnerable populations all around the country. Thanks for being our other wing Latrica!

#DoingAngelsWork #WeFlyHigherTogether
Volunteer Opportunity

Remote Area Medical
Looking to help in the fight against coronavirus? We could use your help.
Remote Area Medical—RAM® is collaborating with national organizations to staff COVID-19 drive-through testing sites with administrative, non-clinical volunteers.
Volunteers will help perform initial eligibility screening, check IDs, confirm appointments, obtain patient consent, assemble specimen kits, assist with registration, deliver kits to vehicles, assist volunteers as they don and doff personal protective equipment (PPE), and direct traffic.
We recognize RAM is calling upon our volunteers to serve in ways we have never served before. All Volunteers will be provided with personal protective equipment (PPE) and will be trained in how to use this equipment.
This month, we celebrated Cinco de Mayo with YOU via our Zoom #GivingTuesdayNow party, in efforts to celebrate as a community, and support the oral health of children! With your help, we were able to raise $979.51 to date!
Proceeds of our event went to PCOH, an organization in Portland, Maine who work as part of a statewide effort with partners across the state of Maine to put together oral health kits to give to students who receive free and reduced lunch.
Lisa Hardill is a Registered Dental Hygienist with over 17 years of experience in the dental industry. She has worked in private practice, independent practice and over 6 years in public health. She is currently working as an Oral Health Consultant, with Oral Science a company specialized in prevention and improving clinical outcomes.
"My public health background has allowed me to understand vulnerable populations and their oral health needs. As the oral health message continues to strengthen with the direct impact on general health, we need to advocate and support organizations that are truly making a difference. It saddens me to see the unmet oral health needs in specific geographical areas, and population groups that are not able to access or qualify for preventative services.
This is one of the reasons I decided to get involved with "Gift from the Heart" (GFTH). After hearing many amazing stories of Dental Hygienists volunteering their time and skill to meet the needs of those who may not be able to access or afford regular preventative dental care, I felt the need to get involved. I've focused my time on promoting the registered charity via social media and my blog site, helped prepare the donation boxes with supplies to be shipped out across Canada, and provided dental care to those in need. It's been such rewarding experience and its remarkable to see the involvement grow each year. It's initiatives such as Gift from the Heart and Hygienists for Humanity that continue to bridge the gap to ensure everyone has the tools needed to work towards oral health.
It's amazing to see specific overlap with the mission of both groups when it comes to advocating for access to care. [...] If we all take time to focus on how we can support our industry, community, and colleagues' image where we would be! I know collaborating and partnership can create an amazing path that will allow the impossible to happen."
When you shop on Amazon, don't forget the Smile :) When shopping for yourself, your loved ones, or your four legged friend, you can support Hygienists For Humanity.
When you select Hygienists For Humanity as your charity, 0.5% of your qualifying purchase will be donated to our organization. The coolest thing is you can still use your Prime membership rewards.
Our organization is founded on a set of core values and principles that shape how we operate and serve. We intend to introduce a core value each volume of our newsletter.
Teamwork makes the dream work! We all have spiritual gifts that can be used for the greater mission! Take a look at how Nicole Tessier, RDH, embodies one of our core values, teamwork!
"In my opinion, Hygienists For Humanity's definition of teamwork is a key pillar in all relationships whether they be with family, an organization, or a dental team. Being a part of an effective team means that each member plays a valuable role on that team that adds worth to the greater cause. To put it plainly, each member has a unique quality or gift that literally makes the team work! The absence of that person would change the dynamic of the team and its effectiveness. So it is crucial to have the right 'gifts' in an organization to make it as successful as possible.
The best teamwork comes from people who are truly grounded in themselves and connected to what makes them special. Far too often we are running from our gifts because it's not packaged the way that we want it to be or may not be something we believe is of value. Think of your spiritual gift like a cell phone. Your phone has all of these special qualities and cool functions but you have not taken time to read the owners manual. Like all phones, eventually the device starts to run low on battery and needs a power source to maintain life. You cannot charge life into your gift if you have the wrong charger. Knowing who you are is critically necessary. If your gift is serving and speaking to underserved communities and you're working in a high-end cosmetic practice full-time you are going to be miserable, unfulfilled, depressed and the money will not make you happy.You're trying to charge at the wrong port because you haven't taken the time to learn about yourself.
In the journey of discovering me, I have learned so many things and I am always evolving. Becoming a wife and mother changed me and I have discovered a second passion outside of dental hygiene that really speaks to me. I have partnered with a close friend to start a podcast called, MomLife: Yes I Can. We are a New Jersey based podcast that talks to mothers from all over about the joys of parenting and how to bring the village back into motherhood (teamwork). What I value most about being an RDH is it has taught me how to work with others and how to be a part of something that is bigger than just myself. I am truly inspired by all the work Hygienist For Humanity is doing and I am honored to be part of The Halo!"
Executive Committee Corner
We are growing! A big welcome to all of our new Angel's who have joined us this year! If you're new here, our newsletter The Halo is meant to connect and inspire #DoGooders like you around, from all around the country! With our 5th newsletter, it's our hope that you feel inspired to do good, and have the desire to connect with peers. We are looking forward to the continuation of our growth, and all the ways we can help you make a difference in YOUR community!
Though we will not be hosting a mission trip this year, we encourage you to look for more opportunities to serve in communities around you, and be sure to connect with our friends at Remote Area Medical and the Partnership for Children's Oral Health. These organizations have created unique opportunities to represent the profession of dental hygiene and support communities in dire need. Our vision is to be a catalyst for healthcare professionals to volunteer and provide opportunities in their communities.
Have an outreach idea? Want to better the oral health of you community? Connect with us so we can get the ball rolling!
As always, we thank you for your continued support and subscribing to free membership with our organization.
We truly fly higher together.
Thank You For Being Our Other Wing!
/